World news story
Cameroon hosts 2014 Commonwealth Parliamentary Conference
60th CPC holds in Cameroon bringing together some 607 delegates, with new Post 2015 MDG outlet setup to ease MDG objectives attainement.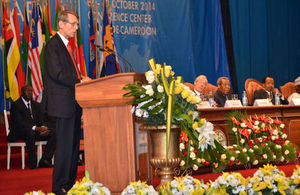 The October 2014 CPC which is holding under the theme "Repositioning the Commonwealth for the post-2015 Development Agenda", witnessed the participation of the delegates from all 9 regions of the Commonwealth Parliamentary Association-CPA despite fears and concerns over insecurity (Boko Haram) and Ebola.
Opening the conference, CPA Vice Patron and President of Cameroon, H.E. Paul Biya challenged MPs to think of a way forward for the MDGs and how the legislatures of Commonwealth countries can best achieves the set goals.
The message of HM Queen Elizabeth the II, CPA Patron and Head of the Commonwealth, read by British High Commissioner to Cameroon, H.E. Brian Olley, echoed the calls made earlier by the both President Biya and the Head of the Inter Parliamentary Union, Martin Chugong.
The seven day sessions - packed conference witnessed the debates on the need for more women in parliament in the Commonwealth; the enhancement of the role of legislators in the up keep of peace and diversity within the Commonwealth, amaongst others.
One of the outcomes of the conference so far is the putting in place by the CPA of a post 2015 outlet code-named the "Sustainable Development Goals" (SDGs) as a benchmark to assist member countries continue with their MDGs attainement efforts.
The CPA general assembly will hold on the 9th of October and delegates will elect a new chairperson of the CPA's Executive Committee.
Published 9 October 2014