World news story
Cameroon Chevening scholar send off
Deputy British High Commissioner for Cameroon, Mrs. Allison Marriott hosted the send-off ceremony for the 2013/2014 Chevening scholar.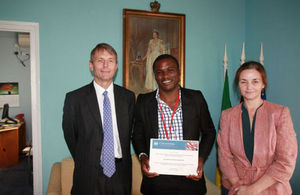 Eric Parfait Essomba has been awarded a fully funded scholarship to take a masters degree course on Environmental Change and International Development at the University of Sheffield – UK.
Chevening Scholarships are the UK government's global scholarship programme, funded by the Foreign and Commonwealth Office (FCO). The scholarship programme makes awards to outstanding scholars with leadership potential from around the world to study postgraduate courses at universities in the United Kingdom.
Eric Parfait Essomba is a young geographer with three years of work experience on climate change and forestry linkages, sustainability and GIS mapping. He is currently coordinating the Climate Change Program of the Cameroon's premier 'home grown' environmental NGO, The Centre for Environment and Development (CED). He is responsible for three projects which basically aim to advocate for local and indigenous communities rights in the design and the implementation of climate and forestry policies across Africa, the Congo Basin and Cameroon.
Since 2011, he has actively participated in international REDD+ related processes, debates and negotiations including the UNFCCC Conference of Parties (COP) and intersession, FCPF's PC sessions, UN-REDD, the REDD+ Partnership. In addition to this, Eric has been part of the FCPF's Technical Advisory Panel Team to review Cameroon's REDD+ readiness preparation proposal (R-PP). He possesses strong abilities in writing successful project proposals and he has hands-on experience in the grants management of various donors like EU, GIZ, Rainforest Foundation UK , Rainforest Foundation Norway, IUCN, CBFF, FERN to name a few. He has published some analytical reports and recently a peer-review paper in the International Journal of Geoinformatics.
Eric's ultimate goal after his course is to mainstream sustainability into the development process which Cameroon is engaged in.
Published 3 October 2013