World news story
Cameroon celebrates the 92nd Birthday of Her Majesty the Queen
It was a time for the UK's mission in Cameroon to strengthen ties with the host country and with all its partners and friends.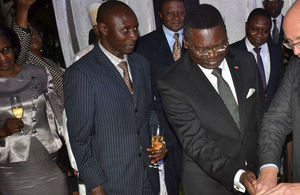 Over four hundred persons from government, political, traditional, business, academia, cultural and the media in Cameroon gathered at the Residence of the British High Commissioner to Cameroon, Rowan Laxton to attend the Queen's Birthday Party on 7 June 2018.
Addressing his guests, Rowan Laxton commended the fruitful relationship between the UK and the government of Cameroon. He mentioned areas of common concern which the UK and the government of Cameroon are working on to find lasting solutions notably security, prosperity, fairness and on tackling illegal wildlife trade. High Commissioner Laxton also highlighted the role played by British businesses in Cameroon, contributing to a clean, well-managed economy in Cameroon, transferring skills and knowledge and reinvesting responsibly in their local communities.
Rowan Laxton said:
We are all affected by the same global issues- whether they are opportunities to make the world a better place such as education and trade or challenges such as climate change and cyber security. Countries therefore need to work together.
Published 26 June 2018