World news story
Cameroon: Applications for the 2016 Chevening Scholarships open!
Young Cameroonian professionals wishing to take on a masters degree in the UK should start applying now.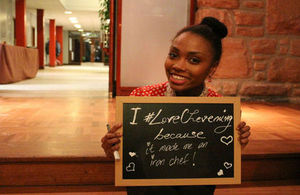 The British High Commission Yaounde invites outstanding professionals from Cameroon, Central African Republic, Chad, Equatorial Guinea and Gabon with leadership potential to apply for the 2016 - 2017 Chevening Scholarships. Our priority areas for a one year Masters course in the UK are:
• Security and Peace (International Security/Security Management/Terrorism/Regional Development/Conflict Resolution/ Peace Studies/Public Health/Wild life protection)
• Prosperity (Engineering/Economics/Trade/Governance/ Development/Creativity & Innovation/Entrepreneurship)
• Human Rights/ Freedom of Expression (Media Law/ Political Communication/ Women's Rights/LGBT/Rule of Law/
• Governance and Rule of Law
Brief description
Chevening Scholarships are the UK government's global scholarship programme, funded by the Foreign and Commonwealth Office (FCO) and partner organisations. The scholarships offers highly coveted opportunities to study for a fully funded Master's degree at a UK university. Future leaders, decision-makers and opinion-formers are able to develop their skills, create new networks, strengthen their opportunities and expand their horizons. Numbering over 44,000 worldwide, Chevening Alumni are an influential and highly regarded group. They have an excellent record of rising to positions of leadership across a wide range of fields including politics, business, the media, civil society, science and technology, and the academia.
Eligibility, core criteria and application
The application deadline is Tuesday 3rd November 2015.
Published 28 August 2015