World news story
British High Commission Yaounde hosts send-off ceremony for 18 Chevening scholars
The send-off ceremony for Cameroon's 18 Chevening scholars took place at the residence of the British High Commissioner to Cameroon.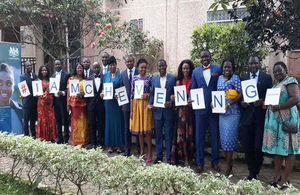 Seven women and eleven men from diverse professional backgrounds will be pursuing one-year master's degree programmes in the UK for the 2016 – 2017 academic year.
Hosting the send-off ceremony in his Residence on Thursday 1 September 2016, British High Commissioner H.E. Brian Olley said:
I am delighted to see so many talented men and women here this evening, both those who have been awarded the scholarships for this year, and such an excellent representation from scholars from previous years who have come this evening to support this event. This says a great deal about the strength of the Chevening Alumni Association in Cameroon which comprises so many successful people in influential positions throughout society. My very best wishes to all this year's scholars for a productive and exciting time in UK over the coming year.
The event was attended by numerous high ranking government officials. Cameroon Chevening Alumni president, Sanyi Emmanuel Sanyi, encouraged the new scholars to act as responsible ambassadors for Cameroon in the UK through excellent academic performance and impeccable behaviour. He encouarged them to return to Cameroon in a year's time and to contribute to the future prosperity and success of the country.
To prospective applicants, H.E. Brian Olley said:
Chevening scholarships offer you a real opportunity to become a leader in your area of competence. Grab the opportunity this year and apply online through the Chevening website by 8 November 2016.
Published 6 September 2016