World news story
Knowledge is GREAT
Cambridge English Language Assessment celebrated 74 years in Greece with an event at the British Ambassador's Residence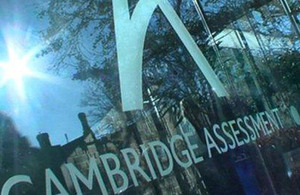 Britain has a global reputation for excellence in the field of education and skills, rooted in our centuries-old yet forward-looking educational system. It's a tradition of learning that we continue to share with the world – every year, over 400,000 overseas students study at our world-leading universities and around 700,000 people every year come to learn English, still the international language of business. We are constantly developing our links with businesses and industry to ensure that we remain one of the most attractive destinations in the world to come and learn.
For most Greek people the first experience of UK education and training is sitting for English language assessment exams. Cambridge English Exams is a great example of a UK institution offering English language testing and qualifications in Greece for the past 74 years; it was the first organisation to introduce certification in English in Greece, offering its first Lower and Proficiency exams to candidates back in 1946.
Cambridge English Language Assessment formerly Cambridge ESOL celebrated its 100 years at the forefront of English language assessment with an event at the British Residence on Thursday 29 August 2013, organised by their regional office based in Athens.
Addressing the event the British Ambassador Mr John Kittmer said:
All of us here tonight will be aware just how highly Greeks value the learning of foreign languages, particularly these days the learning of English. Students in Greece start English from the age of 6 or earlier, often by private tuition; they take language exams at a younger age compared to the rest of the world. Indeed, I am often astonished by the penetration of the English language in Greece, and by the excellence of the English spoken by older and younger generations of Greeks.
Over 4 million people a year take Cambridge English Language Assessment exams, and many millions more use official Cambridge English materials to prepare and learn. This is an enormous success story in one of our greatest export markets. The success of Cambridge English is a real sign that, as the Government's campaign material puts it, Knowledge is GREAT Britain.
Mr Roger Johnson, Chief Operating Officer of Cambridge English Language Assessment, presented a brief history of the Cambridge English exams success story referring to their longevity as a reflection to their commitment to quality and their understanding of the fact that language is not an academic subject but an important tool that can help students improve their life chances.
Published 30 August 2013
Last updated 2 September 2013
+ show all updates
image added
First published.