Press release
Calls for Scottish Government clarity on educational support
Scottish Secretary David Mundell has expressed concern over gaps in the Scottish Government's educational support for air pilot training.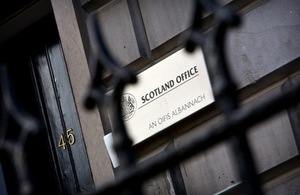 During a visit to Tayside Aviation today the Minister heard more about the Scottish Government's decision to stop providing fee support to Scottish students who choose to study there. This is in contrast to their decision to continue to provide fee support to Scottish students who choose to go to Bournemouth where they receive a loan to cover fees and living costs.
Tayside Aviation currently provide 20 pilots per year for Loganair and would like to take on more Scottish students given the demand for the programme, but the decision not to offer support for students in Scotland means it's likely those places will be filled by students from overseas. Additionally Scottish domiciled students who are part of the Aviation Skills partnership involving Tayside Aviation, Middlesex University and Loganair will not get supported while those who choose to study to Bournemouth to study will.
Mr Mundell said:
I valued the chance to visit Tayside Aviation today. Scotland has a real need for pilots and this is a great facility for pilot training here in Dundee.

Yesterday the First Minister put education at the front and centre of her Programme for Government, but my visit today highlights there is something wrong when a student from Dundee can get Scottish Government support to train in Bournemouth, but not in Dundee.

This appears to be all bound up in bureaucracy. Scotland and the UK needs a steady stream of quality trained pilots. There is a danger that Scots who go elsewhere for training don't return and that Scotland loses out. I want to see young Scots training in Scotland and working in the skies over Scotland.

I am going to take this matter up with the Scottish Government and hopeful that we can get this sorted out.
Based at Dundee Airport, Tayside Aviation is one of the UK's leading flying schools and has been training future pilots for almost 50 years. It is the only training establishment to offer a pilot flying degree in Scotland, and along with Bournemouth is one of only two in the whole of the UK. Tayside Aviation is also the only Flight Training Organisation in the UK entrusted by the RAF to deliver flight training to their cadets as part of a 4-year contract to deliver the Flying Scholarship Programme.
Published 2 September 2015