News story
Call for feedback on defence and security statistics 2013
UKTI DSO are interested in getting your views on the 2013 defence and security statistics.
This news article was withdrawn on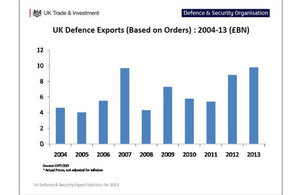 UK Trade and Industry Defence and Security Organisation (UKTI DSO) published the Defence and Security Statistics for 2013 on 8 July 2014.
This is the first time they have been designated as 'Official Statistics'. To ensure that we are providing relevant data, we have recently sent out a short survey to known users to get their feedback.
If you haven't already been contacted but would like to express your views, please take a few minutes to complete this short survey.
We are interested in hearing the views of any users of the data, irrespective of background:
companies
government
journalists
academics
individuals
All feedback will be analysed and taken into account for future releases of the defence and security statistics.
Contact:
For more information please contact Jeff Burcham.
Published 17 November 2014