World news story
CAF and UK explore Latin American development opportunities
A UK delegation visited CAF's offices to learn more about Latin American development initiatives and explore areas of mutual interest.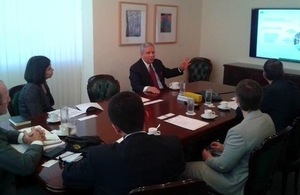 A delegation from the British Embassy and the Aid-Funded Business Service unit of the UK Trade and Investment (UKTI) government office visited the CAF-development bank of Latin America- headquarters in Caracas and its office in Trinidad & Tobago. The purpose of this visit was to boost ties outlined in the Joint Cooperation Declaration with the UK Foreign & Commonwealth Office (FCO) signed in August 2012, which identifies and promotes investment opportunities in education, infrastructure and in other priority areas deemed strategic for both parties.
During the meetings, representatives from the UK learned about CAF initiatives and partnerships with both the public and private sectors throughout the region, and reiterated their interest in working with CAF to strengthen cooperation and integration in Latin America.
The cooperation accord aims to facilitate the exchange of research and expertise in various sectors and projects across the region and possibly launch a fund/investment programme between CAF and the UK to host forums, seminars and meetings meant to encourage the development of mutual interest projects.
The UK government held a seminar and hosted a high-level delegation from CAF in London on 11-12 February of this year to introduce CAF to UK businesses and institutions interested in strengthening ties with Latin America.
Published 19 October 2013