World news story
Business Opportunities in China, Burma and Beyond, in Partnership with Singapore
Opportunities for UK and Singapore companies in the Smart Cities and Sustainable Urban Solutions spaces in key emerging markets.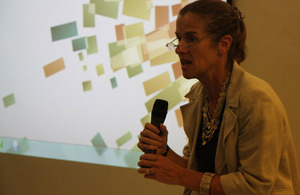 The seminar began with an opening address by the Deputy High Commissioner and Director of Trade & Investment, Ms. Judith Slater. She said:
UK Trade & Investment Singapore has been working closely with Singapore counterparts to foster strategic Singapore-UK business cooperation in sustainable urban development projects in China and key emerging markets…this builds on commitments to enhance third market business cooperation made under the UK-Singapore Economic & Business Partnership (EBP), signed by UK Secretary of State for Business, Innovation and Skills, Mr. Vince Cable, and Singapore Minister for Trade and industry, Mr. Lim Hng Kiang, in October 2011.
The seminar saw participation from key Singapore government agencies, developers and companies spearheading landmark projects in sustainable development.
The Sino-Singapore Guangzhou Knowledge City was one of the key projects covered – a sustainable integrated urban development that aims to spur Guangdong's transition to a knowledge economy. Ms. Slater presented that UKTI is currently working on establishing a tri-party Memorandum of Understanding to support strategic UK-Singapore-China cooperation on this project.
Published 13 February 2013