World news story
Business opportunities for UK companies in Kyrgyzstan
HM Ambassador Judith Farnworth shares views on potential business opportunities in Kyrgyzstan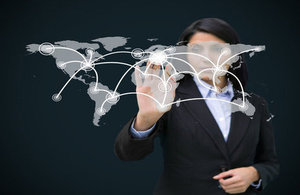 On 14 October, HM Ambassador Judith Farnworth gave a presentation in London on political, economic and commercial developments in the Kyrgyz Republic. Around 50 members of CATBIG, a business to business network for UK based companies focussing on the countries of Central Asia and the Trans-Caucasus, attended the briefing to hear the Ambassador's views on potential business opportunities in Kyrgyzstan. The audience represented a wide range of sectors including high street retail, construction, legal services, health and social care promotion, engineering, infrastructure and energy.
The Ambassador outlined recent Kyrgyz political and economic trends. She also set out the key elements of the Kyrgyz government's sustained economic development strategy 2013-17 designed to promote economic growth and social welfare. She welcomed its focus on institutional and justice sector reform as well as the Kyrgyz government efforts to improve the business climate by increasing transparency, reducing bureaucracy and combating corruption. All of these steps, she noted, were prerequisites for successful domestic and foreign investment in the Kyrgyz Republic. The Ambassador remarked that the outcome of the Kumtor gold mine case would be an important factor in determining investor confidence in the Kyrgyz Republic.
The Ambassador also took the opportunity to announce the recent recruitment of a British Embassy Prosperity Officer, Ahmet Shamiev, who will lead the Embassy's work to support British business and to work with Kyrgyz partners to promote further business sector reform. She also mentioned that the Embassy was planning an event in mid-November to showcase UK and Kyrgyz governmental steps to combat bribery. More information on this event and how to participate will be posted on the website and facebook pages shortly.
Published 23 October 2013