World news story
Business inclusion project in multiethnic communities in Macedonia
Launch of British Embassy supported programme for strengthening business opportunities in rural multiethnic communities in Macedonia.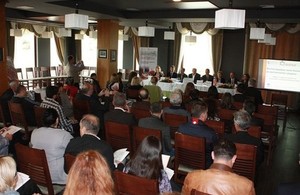 Unemployed people from rural communities, particularly women and youth who have an idea for individual business and are already dealing with any profit-generating activity will have the opportunity to get assistance and get involved in local economic development through the project on business inclusion which is implemented in rural multiethnic communities in Macedonia. The project has started implementation in June 2014 and the first phase of identifying potential business is ongoing.
Speaking at the promotional event for the project our ambassador Charles Garrett said:
Macedonia is not unique in the issue of employment of women and youth. We hear very often and we know that it is a global issue. In the UK we use different initiatives to help increase the employment of youth. Small businesses are key in this. For example we have the Prince's Trust, set up by the son of The Queen, an initiative that runs different programmes to help young people to gain new skills, find employment, to make a positive change in their lives and make them engaged.
The project is implemented by the Strategic Development Consulting with the support of the British Embassy in the Polog and the North-Eastern region of Macedonia in the period of June 2014-April 2016. Besides working with the population, the mayors of rural communities in these regions will be also signing Memorandums of Understanding with the project implementers, demonstrating their commitment to supporting the project and facilitating its implementation.
British Embassy Programme Assistance.
Connect with us on Facebook or follow us @ukinmacedonia.
Connect with the British Ambassador on Facebook and @BritAmbCGarrett.
Read our blog ukinmacedonia.
Published 28 September 2014