World news story
Business Angels seminar organised by the embassy
The embassy and Fundacion Chile organised a seminar titled "Venture Capital and Business Angels: Insights from Cambridge Ecosystem"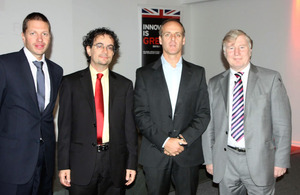 The British embassy organised a high-level delegation visit to UK as part of "Angels Venture Chile" -project that aims at strengthening links between the business angels and the venture capital organisations between the two countries. The delegation of eight executives and managers had working sessions and meetings with some of the leading business angel and venture capital organisations, investor networks and companies, and university-linked accelerators and incubators. Most of the meetings took place in London, the financial centre of Europe, and in Cambridge, which attracts over 25% of all European venture capital.
The Chilean delegation had the opportunity to build direct links with UK colleagues, exchange ideas, and discuss the best practices and policies to develop the industry in Chile. The venture and angel investment is quite a mature industry in the UK, whereas Chile is only beginning to build up and organize its investment community. The insights from the UK provided the delegation with important tools and examples on how to develop their work in Chile.
The Delegation that included representatives from Mujeres Empresarias, Universidad del Desarrollo, Chile Global Angels network, Proyecta Chile, Fundación Chile, CORFO, and NXTB Lab visited important UK actors, such as Tech City Investment Organisation, Cambridge Enterprise, Sprinboard/Tech Stars, Octopus Ventures, Envestors, NESTA, UK Business Angels Association, The British Private Equity and Venture Capital Association, and L39 incubator.
As a follow-up to the visit, in April the British Embassy, together with Fundacion Chile, organised a seminar titled "Venture Capital and Business Angels: Insights from Cambridge Ecosystem", with the presentation and panel participation of Mr. Hugh Parnell, the president of Cambridge Cleantech network. The seminar provided intriguing insights to the dynamic relationships and interconnectivity of different actors of in Cambridge. Another panellist of the seminar, Mr. Paul O'Toole, head of UDD Ventures (Universidad del Desarrollo), pointed out well during the panel discussion that in Chile the ecosystem is yet to reach the maturity levels that would provide the type of interconnections of key actors that Cambridge is benefitting from.
Published 22 April 2013
Last updated 25 April 2013
+ show all updates
Added translation
Added translation