Business and communities to unite in driving neighbourhood growth
The first businesses to work hand in hand with their communities to trial proposed new neighbourhood planning powers to help boost local economies…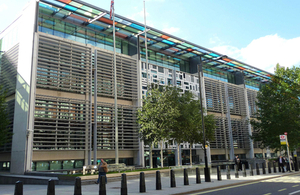 The first businesses to work hand in hand with their communities to trial proposed new neighbourhood planning powers to help boost local economies were announced by Planning Minister Greg Clark today.
Eight business groups are being given the opportunity to test out the approach being proposed in the Localism Bill to develop a business led Neighbourhood Plan for local business areas and town centres that benefits the whole community.
The Business Neighbourhood Frontrunners will work with local councils and community groups to prepare the planning and development framework to bring the right kind of development to their area. If these are later passed in a local referendum they will be adopted by the council.
The business groups will act as frontrunners spearheading neighbourhood plans that make it easier to change the designated use of buildings and expand facilities to meet changing needs and remove the need to apply to the council for every adaptation made to a building.
The ambitions of local people and their local firms and shops are often one and the same and much needed growth can be achieved quicker by using the expertise and resources of local business people to spearhead the right development swiftly. The plans will also help with the regeneration of local high streets - making them better places to visit and shop.
The announcement comes as the Localism Bill moves to Report Stage today and follows new amendments that were introduced to strengthen the promotion of growth following the Planning for Growth Budget.
Greg Clark said:
Local businesses are vital to stimulating growth and benefit their communities way beyond just providing jobs. They can revive neglected neighbourhoods, support schools or make a significant contribution to community facilities.

We need to involve local companies more explicitly in neighbourhood planning decisions for business areas if communities are to get the most out of them. Businesses have access to skills, resources and expertise that can give a real boost to getting the right kind of growth underway in many areas. Business Neighbourhood Frontrunners are about residents and businesses shaping their neighbourhood together.

Ensuring all members of a community are involved in driving development in their neighbourhood is central to our planning reforms and local businesses are an equally important part of many communities.
The areas that have expressed an interest in being Business Neighbourhood Frontrunners, typically business and industrial parks and retail neighbourhoods, are: Aldershot Town Centre; Bankside, London; Central Milton Keynes; Liverpool Innovation Park; Team Valley Trading Estate, Gateshead; Trafford Park, Manchester; South Bank, London, New West End Company, London.
Liverpool Innovation Park - owned by Space NW:
The regeneration of this brown field site is being hampered by the need to apply to the council for every aspect of development and change of commercial use. Space NW intends spearheading a plan to develop an education campus, create amenities to attract businesses that will also benefit local people and respond more quickly to opportunities to grow and expand existing facilities.
Central Milton Keynes:
This area is the town's main location for retail, office and leisure development. The council is eager to create a plan to determine which development needs permission, and to make it easier for community groups and young businesses to locate to new premises without the need for planning applications.
The Frontrunners are now being invited through their local planning authority to make a formal application to the Department to access support and funding to help cover expenses from developing a plan. We are now inviting other business organisations to work with their council and apply to be a business frontrunner.
Liz Peace, chief executive of the British Property Federation, said:
We are delighted to have worked closely with Government on this key initiative which heralds a new approach to local planning, enabling businesses as well as residents to take the lead in shaping their neighbourhoods in partnership with local planning authorities.

The business neighbourhood frontrunners unveiled today are all areas with an enormous potential for economic growth. Designation as a business neighbourhood should help them to put together a planning and development framework for their areas that allows them to realise that potential. We hope that many other business neighbourhoods will follow their lead.
The Business Frontrunners scheme is part of a package of measures and amendments made to the Localism Bill to make the planning process less regulatory and more firmly focused on supporting rebalancing economic growth.
Other amendments include a strengthened duty to cooperate. This requirement for councils to work together on planning issues has been amended to ensure councils have regard to work and views of local enterprise partnerships when preparing their local plan. It also requires them to work across council boundaries to consider joint approaches and joint local plans.
David Frost, Director General of the British Chambers of Commerce (BCC), said:
Businesses are a key part of our local communities, and it is right that they are able to play an active role in neighbourhood forums. Giving business owners a voice in neighbourhood planning will allow them to help set the agenda for business growth, rather than being impeded by an overly bureaucratic system. The British Chambers of Commerce has long campaigned for a more pro-business approach to planning, and we are pleased to see that the Government has listened to the business community on this important issue.

Getting the planning system right is crucial if we are to continue to see a private sector-led recovery, and these changes are an encouraging step in the right direction.
Notes to editors
Other Business Neighbourhood Frontrunners include:
Team Valley Trading Estate, Gateshead - owned by North East Property Partnership
This industrial estate is occupied by offices, industrial, retail and leisure companies but is restricted by the current planning system from meeting its customers' property needs. This has resulted in businesses either moving out of the neighbourhood or compromising their own growth. The Partnership would develop a plan that would allow the estate to develop to the pace that property is required, enabling them to deliver space faster and cheaper.
Southbank, London - plan spearheaded by South Bank Employers' Group
This complex area is home to 12,000 residents and 50,000 employees and includes a major transport hub, business headquarters, world renowned visitor attractions, universities and a hospital. Businesses and the community want to develop a plan that includes improvements to public areas better retail opportunities for new and existing customers.
New West End Company, London
The West End is one of the world's top shopping destinations and receives 200 million visitors a year and employs 100,000. It is also home to 36,000 people. The company wants to work with the local community and council to shape local planning policy so it works for the whole community. Their plan would look at design, site access, local amenities and public space and streetscape.
Bankside, London
This area of Southwark on the south side of the River Thames is home to 6,000 residents and 60,000 employees. Better Bankside represents local businesses and will work with the council and Bankside Residents' Forum to develop a plan to provide more affordable business and shop space, improve public amenities, and create more community facilities for both residents and workers, such as dentists, creches and doctors surgeries.
Trafford Park, Manchester
Trafford Park is one of the largest industrial parks in Europe and home to 1,300 businesses employing 32,000 people. The Park wants to spearhead a plan with the community to overcome planning shortcoming that are a block to attracting external finance. The plan would improve co-operation between businesses and forge stronger links with the council.
Twitter
Keep up to date with the Department by following us on Twitter (external link).
Media enquiries
Visit our newsroom contacts page for media enquiry contact details.
Published 17 May 2011