World news story
Burj Al Arab supports global cause to End Sexual Violence in Conflict
From:

Part of:

Published:

12 June 2014
This was published under the 2010 to 2015 Conservative and Liberal Democrat coalition government
Burj Al Arab illuminates its sail with the End Sexual Violence in Conflict #TimetoAct for the duration of London Summit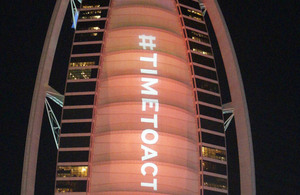 On the occasion of the Global Summit to End Sexual Violence in Conflict that is being held in London between 10 and 13 June, the British Embassies in the UAE are collaborating with a range of local institutions and individuals to shed light on this most critical of causes.
In Abu Dhabi, UK Chargé d'Affaires Paul Fox hosted a reception on the morning of Wednesday 11 June in the presence of UK Minister of State for International Development, Mr Alan Duncan to discuss what global action on eradicating rape as a weapon of war can achieve.
In Dubai, to support the campaign, the Burj Al Arab, one of the world's most iconic landmarks is illuminating its sail with the End Sexual Violence in Conflict hash-tag #TimetoAct for the duration of the Summit.
The British Embassy in Dubai also hosted a "tweet up" with young activists, including Emirati women, on the subject to raise awareness in the UAE digital community. The tweet up took place between 10h30-11h30 on Thursday 13 June.
The London Summit is being hosted by the UK Foreign Secretary, William Hague and Special Envoy of the UN High Commissioner for Refugees, Angelina Jolie and is the biggest meeting ever held of its kind with over 148 countries represented at senior level, including the United Arab Emirates.
The Summit aims to see practical steps agreed that will drive change on the ground, shattering the culture of impunity that surrounds the crime of rape as a weapon of war. It will identify concrete actions to improve documentation and investigation of sexual violence in conflict; provide greater support for survivors (including children); ensure sexual and gender based violence responses and the promotion of gender equality are fully integrated in all peace and security efforts; and improve international co-ordination on the subject.
Speaking at the reception, UK Minister for International Development Mr Alan Duncan said:
Rape as a weapon of war ruins the lives of women and men, boys and girls and destroys whole communities. We need to ensure the spotlight of the world falls on the issue and brings public pressure to bear on governments and the international community that now is the time to act to end these crimes. It's wonderful that such an iconic landmark as the Burj Al Arab is supporting this cause in such a powerful way.