Press release
Burglar who targeted the elderly jailed for longer
A burglar who targeted the elderly has sentence increased to 7 years and 6 months following ULS referral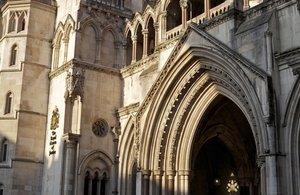 A burglar who targeted the elderly will spend more time in prison after Attorney General Jeremy Wright QC MP referred his original sentence to the Court of Appeal as unduly lenient.
Felix Joseph Hanrahan, 29, committed 13 burglaries in Durham and Northumbria. Posing as a water board official checking water supplies for contamination he managed to get into people's homes. He stole cash and jewellery with a total value of at least £2585.
Hanrahan deliberately targeted elderly, vulnerable people – many of whom lived alone. Some of the victims also suffered from medical conditions including dementia.
Hanrahan was originally sentenced to 3 years 9 months in prison at Newcastle upon Tyne Crown Court. He will now serve 7 years 6 months behind bars.
Speaking after the hearing, the Attorney General said:
"This was a planned operation with vulnerable, elderly people being the target. The original sentence failed to take proper account of the seriousness of this offending and the effect the burglaries had on the victims' lives. I am pleased the Court has increased the prison term."
Published 7 July 2017