World news story
Bulldog Gin launches in Greece
UKTI Greece helps British gin company launch their brand in Greece. Demand for British food and drink products overseas is growing fast.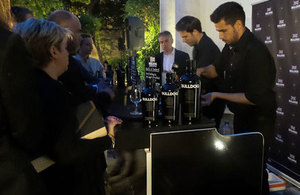 UK food and drinks exports amounted to £19.4 billion in 2013. £90 million of these exports went to Greece. a market still experiencing economic downturn. Major beverage companies such as Diageo and Pernod Ricard now have subsidiaries in Greece, representing British brands
The UK is renowned across the globe for its premium beverages, especially Scotch whisky and gin. The current market trend is to:
offer consumers fine quality products
maintain traditional methods of production
Opportunities
There are opportunities for UK alcoholic drinks products in Greece as whisky and gin consumption are strong. Greece is:
ranked in the top 10 importers of gin with imports valued at £8 million in 2013
open to new, quality products and tastes
Bulldog Gin launch event
The UK Trade & Investment (UKTI) team at the British Embassy in Athens organised a launch event for Bulldog Gin on Wednesday 7 May 2014. This was on behalf of W.C. Karoulias, one of the leading importers of British brands to Greece. The event was attended by the media and offered sector journalists a tasting experience. The Deputy Head of Mission Mr Andrew Staunton welcomed the new entry to the Greek market and referred to the famous quote of Winston Churchill, who had several Gin & Tonics while staying at this Residence in 1944, that "a gin and tonic has saved more Englishmen's lives, and minds, than all the doctors in Europe."
The launch event included:
a presentation by the senior Bulldog Ambassador, Mr. Nuno Codea on the history of gin and Bulldog in particular
a tasting session, run by AIWS wine and spirit education consultant, Mr Mathidis, held in the Brititish Residence garden
Assistance for UK exporters
UKTI Greece provides ongoing support to UK brands already active in Greece as well as to UK companies wishing to expand their business in the country. We welcome all business initiatives aimed at presenting distinguished British products to the Greek market by showcasing the very best of what Britain has to offer.
Contacts
If you are a UK company looking to expand your business in Greece contact:
Department for International Trade Greece
British Embassy
Ploutarchou 1
106 75
Greece
Published 8 May 2014