World news story
Brunel University signs deed of variation with Ahlia University in Bahrain
Brunel University met with senior delegates from Ahlia University, building on the excellent relationship that exists between the two universities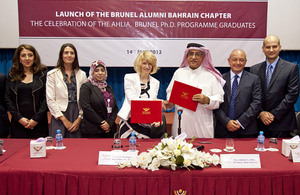 Professor Julia Buckingham was accompanied by Professor Zahir Irani on a recent visit to the Kingdom of Bahrain where the Vice-Chancellor signed a deed of variation to a longstanding collaboration between the Brunel Business School and Ahlia University. This visit builds on the relationship that exists between the two Universities in regard to the PhD without Residence programme, where approaching 45 Brunel students are undertaking funded PhD research projects relevant to the Gulf region. A member of the Brunel Business School has also just started a 3 year funded secondment at Ahlia University.
The signing of the deed of variation was witnessed by Mr Russ Dixon the Acting British Ambassador, Laura Bocarro (UKTI, Educational Attaché) and the Assistant Director (Projects) of the British Council. The Vice-Chancellor's visit was reported extensively in the local press and she featured on Bahrain Television.
The delegation from Brunel also visited the Deputy Prime Minister of Bahrain who reiterated his support for this collaboration and expressed interest in its expansion. Brunel is seeking to further collaborate with Ahlia in the following priority areas:
Develop and deliver a Master's degree in the area of Women in Leadership
Expand the PhD without Residence Programme to include other disciplines at Brunel
Start a student exchange programme (Brunel to Ahlia and Ahlia to Brunel) for September 2013
Start a staff exchange programme for July 2013
During the stay, the Vice-Chancellor also launched the Brunel Alumni Bahrain Chapter, which was attended by over 60 Brunel alumni who graduated from across the University over the past two decades. They were also joined at the event by Mr Dominic McAllister from the Foreign and Commonwealth Office.
During the visit, the Vice-Chancellor, Professor Irani and Dominic McAllister also visited the Royal College of Surgeons and the Bahrain Qualification and Quality Assurance Agency.
Published 23 May 2013