World news story
British universities participate at EducationUK fair in Chile
The exhibition showed Chilean students and young professionals what British universities have to offer in the area of postgraduate studies.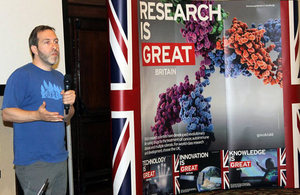 Twenty six British universities participated at the EducationUK Exhibition for postgraduate studies organised by the British Council in conjunction with the Embassy in Chile. Over one thousand students and young professionals had the opportunity to speak with university representatives about the various postgraduate study programmes offered throughout the United Kingdom.
Representatives of the Becas Chile scheme administered by the Chilean government were present at the exhibition to showcase the different scholarship options offered for Chileans who are interested in pursuing postgraduate studies abroad. For four consecutive years the UK has been chosen as the number one destination for the government-funded postgraduate scholars in the 'Becas Chile' scheme in 2014.
Exhibition participants were also informed of the UK Chevening Scholarship programme by Chevening scholar Andrés Musalem who gave a presentation about how the scholarship has helped him advance in his professional career.
During their visit to Chile, EducationUK mission members also had the opportunity to share experiences with former Chilean scholars who studied a postgraduate degree in the UK. The event took place at the residence of the British Ambasador to Chile, Fiona Clouder.
The universities that participated at the Exhibition are:
| | |
| --- | --- |
| Durham University | University of Bristol |
| Royal Holloway, University of London | Bath Spa University |
| The University of Northampton | University of Essex |
| Cardiff University | University of Southampton |
| Northumbria University | The University of Manchester |
| University of Leeds | The University of Sheffield |
| Queen Mary University of London | UCL (University College London) |
| University of Warwick | The University of Edinburgh |
| Goldsmiths, University of London | Anglia Ruskin University |
| University of Glasgow | University of St Andrews |
| Imperial College London | The University of Nottingham |
| University of Exeter | Swansea University |
| University of Sussex | The University of Liverpool |
Further information:
Visit the EducationUK website for more information about studies in the UK.
For more information about the Chevening Scholarships, visit www.chevening.org.
For more information about the events and activities of the British Embassy in Santiago, follow us on:
Published 26 November 2014