World news story
British Prime Minister's Trade and Investment Envoy visits Tanzania
Lord Clive Hollick, the British Prime Minister's Trade Envoy to Tanzania, arrived in Dar es Salaam on Monday (3 October 2016) for a two days visits.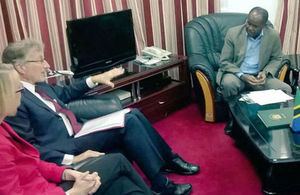 Lord Clive Hollick will meet with government representatives as well as UK firms already investing or planning to invest in Tanzania.
Lord Hollick's visit will demonstrate the expertise, quality and innovation of UK companies. His visit will focus on opportunities in the infrastructure, oil & gas and renewable energy sectors in Tanzania.
In his meetings with the Government, Lord Hollick will illustrate how the expertise of UK companies can contribute to Tanzania's industrialisation and how financial backing from UK Export Finance can support this process.
During his visit, Lord Hollick will see construction of Terminal 3 at Julius Nyerere International Airport. The new terminal is being built by BAM International in a joint venture with UK firm BAM Nuttall, with the support of UK Export Finance.
This will be Lord Hollick's fourth visit to Tanzania, and his second this year, a signal of the UK's commitment to boosting trade and investment in Tanzania.
Published 4 October 2016