World news story
British Photographer supports MAG's Work in Laos
Photographer Tessa Bunney recently moved to Laos to bring the UXO problem to light with her lens.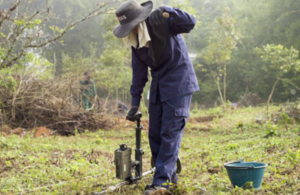 Tessa Bunney's photos and short film about Mines Advisory Group (MAG)'s all-female UXO clearance teams has been featured in the UK's Financial Times magazine. On 30 August, Tessa returned to Xieng Khouang province to show the results of her work to MAG staff, supported by the British Embassy in Laos and MAG. MAG has removed and destroyed more than 6,075 cluster submunitions and 1,778 items of unexploded ordinance benefiting more than 149,512 people in Laos in the last year alone, and Tessa Bunney's work to photograph and capture the work of MAG and the de-mining teams has increased the profile of this important work.
Mrs.Bunney filmed and photographed one of MAG's bomb disposal teams, UCT6. This all-female team works day in day out to clear villages and acres of land from the UXO still affecting Laos decades after the Indochina War.
We are happy to see MAG and Tessa lending their expertise to solve this important issue. While there is no quick end to the problems caused by UXO in Laos, MAG and UCT6 are bravely working to clear parts of the country and it's great to see so many British contributions to end this legacy,
Ambassador Philip Malone stated.
Read her story in the Financial Times here, see Mrs. Bunney's film here, and visit the UK in Laos' Facebook page for photos from the Embassy's visit to Xieng Khouang visit.
Published 9 September 2013