World news story
British Minister of State for Latin America to visit Chile
Minister Hugo Swire to attend activities to promote cooperation in trade and investment, science and innovation, green growth and education.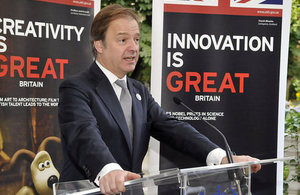 The Rt. Hon. Hugo Swire MP, Minister of State for Latin America in the British Foreign & Commonwealth Office, will visit Chile 10-11 March, representing the UK at the Presidential inauguration.
In addition to attending official activities as part of the presidential inauguration, Minister Swire's programme will be focused on strengthening UK-Chile ties in areas such as trade and investment, science and innovation and education.
Mr Swire looks forward to meeting members of the new government. Part of his programme also covers meetings with senior representatives of the business community and a reunion with Chevening and UK scholars.
This is the second visit to Chile by Minister Swire, who was part of the British delegation during the EU-CELAC Summit in January 2013. Before departure the minister said:
I am delighted to be visiting Chile again. Chile is a valuable partner for the UK with whom ties go back over 200 years. We are looking forward to continuing to work closely on bilateral and international issues where we share common interests.

The last few years have been an exciting time for Chile – UK relations, especially in the fields of trade and investment, education and green growth. There is also great potential to deepen our contacts on science and innovation, areas in which we expect to increase collaboration during 2014.
Further information
Rt Hon. Hugo Swire MP is Minister of State for Latin America in the Foreign & Commonwealth Office. He was appointed on 4 September 2012. He is the Conservative Member of Parliament (MP) for East Devon. He was first elected to Parliament in 2001. Prior to becoming a Foreign Office Minister he was Minister of State for Northern Ireland from May 2010 to September 2012 and Shadow Secretary of State for Culture, Media and Sport from 2005 to 2007. Before entering politics, Mr Swire was commissioned into the 1st Battalion Grenadier Guards, British Army, in 1980. Upon leaving the military he co-founded a small independent production company; served as the first Head of Development of the National Gallery in London; and later became Director of famous auction house Sotheby's in London.

Chevening Scholarships are the British government's global scholarship programme funded by the Foreign Office and partners. The scholarships are awarded to students of excellence in their fields and have a potential for leadership.
For more information about the activities of the British Embassy in Santiago, follow us on:
Published 10 March 2014