World news story
British Minister Ken Clarke sees potential to expand Indo-UK business collaboration in healthcare
British Cabinet Minister and Prime Minister's Trade Envoy Kenneth Clarke addressed the 'Collaboration In Healthcare: Indo-UK Conference' organised by CII.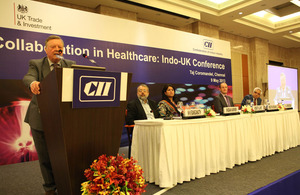 The Rt. Hon. Kenneth Clarke, British Cabinet Minister and Prime Minister's Trade Envoy told a CII-hosted gathering of Indian healthcare businesses:
The Indian private sector is renowned for offering world-class healthcare in India's big cities. You are now keen to provide universal and affordable access to that same quality of service to India's emerging towns and villages. You are also keen to strengthen your public healthcare infrastructure. The UK offers wide access to world-class healthcare and owes much of that success to a vibrant public and private sector. About a quarter of doctors in the UK are Indian or of Indian origin and many doctors in India have trained or worked in the UK. Of all the sectors where India and the UK can work together for mutual benefit, healthcare is one of the strongest because of this common ground in a sector that is vital to our growth.

A unique feature of the UK healthcare system is the General Practitioner (GP) who acts as diagnostician and a gateway to a whole range of services from day-to-day domiciliary care to hospital care. Our universities offer training not just to doctors but to a range of allied healthcare professionals including training staff to operate complicated equipment. The UK health business delegation accompanying me in India this week, have a unique mix of experience and skill that they are keen to offer to India, from design and operating a hospital to creating digital records or skill in operating state-of-the-art equipment. I'd like to see a vibrant and growing Indo-UK healthcare partnership as a way of opening up a whole range of business partnerships with India.
Mr N K Ranganath, Past Chairman, CII Tamil Nadu, said:
The Indian private sector accounts for 80% of all spend on healthcare and manages 70% of all hospitals. Private equity fund investments in health and life sciences have touched $2 billion in the last five years. The market for healthcare in India is huge, especially in the Tier 2 and Tier 3 cities.'
Ms Shobana Kamineni, Past Chairperson, CII Southern Region and Chairperson (CII National Committee on Public Health), said:
By 2020 the Indian healthcare sector will be worth $100 billion. CII is working to classify healthcare as an industry, as this status will ensure the tax benefits and rates for funding for hospitals that are urgently needed for the private sector to extend services to a wider population. Healthcare is now part of India's skills agenda. What we would welcome from the UK is the innovation that the UK is renowned for. The world owes the UK several innovations, such as the MRI. And we would welcome low-cost innovative solutions from the UK.'
Published 9 May 2013