World news story
British military natural disaster specialists arrive in Manila
British military have arrived in the Philippines this week to work alongside the Philippine government and disaster relief organisations.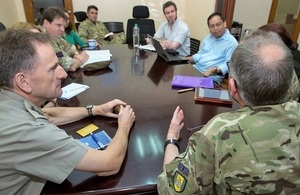 Focusing on Manila, members of 77 Brigade will share experiences with Philippine government departments, local authorities and humanitarian agencies in an integrated approach modeled on the scenario of a major earthquake.
Their mission during the two-week deployment will be to look at examples of the existing Philippine earthquake contingency response plans and, working with Philippine colleagues, offer suggestions that will help save lives by enhancing the country's ability to respond to an earthquake in an urban setting.
British Ambassador Asif Ahmad said:
The effects of Typhoon Yolanda were a real eye opener, not just for the Philippine Government but for many others across the world, including our Government. We are very much aware of the importance of proper planning in mitigating the worst effects of natural disasters. Thousands of lives can be saved by effective preparation and coordination in advance of and in the aftermath of disasters. Exercise Civil Bridge is Great Britain's continuing commitment to working together on disaster risk management, learning and sharing with each other.
Exercise commander, Lieutenant Colonel Jem Blades Royal Engineers, said:
It's great to be here, working with the Philippine Government and, in particular, the National Disaster Risk Reduction and Management Council regarding earthquake mitigation measures in Manila. It's an excellent opportunity for the British Armed Forces to work closely with a broad spectrum of experts from Government departments, non-governmental organisations and local authorities, as well as the Filipino armed forces.

Our teams include individuals who bring specialist knowledge of earthquakes, humanitarian relief and disaster recovery, and we hope to share our experiences, as well as learn from others.
Lt Col Blades added:
What we learn here in Manila will also enable us to work more effectively with others in different parts of the world.
77 Brigade draws upon a wealth of civilian and military skills from both Regular and Reservist members from the Army, Royal Navy and Royal Air Force, who provide expertise ranging from civil engineering and policing to strategic communications.
Published 23 April 2015