World news story
British-Lebanese Businesses win international recognition
UK-Lebanon companies win international recognition. Lebanon-UK trade now reaching close to 1/2 billion pounds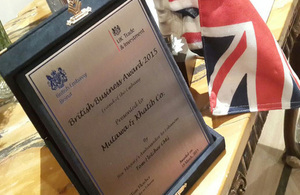 UK-Lebanon companies last week won international recognition for innovation, design and league-topping sales. Trade between Lebanon and the UK has almost doubled in four years, now reaching close to half a billion pounds ($750 million).
International recognition
British Ambassador Tom Fletcher celebrated 11 top UK-Lebanese businesses at the British Business Awards 2015, as part of British Business week. Thanks to these exceptional companies, the UK and Lebanon are on track to double trade by 2016. The Beit Misk property development also celebrated their achievement of the British BREEAM award for environmental sustainability, an award from Capital Finance Magazine, and European Magazine's Global Banking and Finance Award.
Speaking at the ArabNet Beirut conference, Ambassador Fletcher urged Lebanese entrepreneurs to see the UK as a natural environment for expansion. "Like the Lebanese, we have always been traders. Like the Lebanese, we have always been networkers. When we combine, we can move mountains. That's why we're launching the UK-Lebanon Tech Hub, to help you 'speed date' with our best entrepreneurs and investors. We want you to make London the launchpad for your businesses." The UK-Lebanon Tech Hub will be launched later this year, a private sector initiative supported by the British Embassy and its commercial arm, UK Trade and Investment.
British brands outperform the competition
As part of British Business Week, Ambassador Fletcher toured ABC Achrafieh with Lebanese entrepreneur Robert Fadel. They visited British brands Monsoon, Accessorize, Mothercare, Burberry, Lush, Virgin, the Body Shop, Ted Baker and others. Ambassador Fletcher heard how these brands are outperforming the competition by 20%.
Small countries, big ideas
At a debate with the Lebanese Businessmen's Association, Ambassador Fletcher highlighted the opportunities for co-creation in a networked century. "In the UK, we're now building our 21st century economy around the creative sector. London's Tech City is now the digital capital of the world. The UK has the second largest design sector in the world. More than half the Oscars went to UK-related films this year, and we publish more books per person than any country. We're a small country with big ideas - four universities in the top 10, 78 Nobel Prizes, the Higgs Boson particle, graphene. And that's where my belief in Lebanon's future fuses with my desire to build Britain's future. Because Lebanon has been the creative dynamo of the region."
Promises and delivery
Ambassador Fletcher also visited Sarafand Fish Market, refurbished thanks to the UK. He announced a further $13.5 million in British support to Lebanon's economy, doubling the scope of UK support to municipalities. The Sarafand project alone has already benefited over 13,000 people.
Last year UK Trade and Investment connected 1,000 Lebanese and British businesses and supported trade negotiations worth £50 million. To discuss opportunities, contact ukti.beirut@fco.gov.uk.
Notes to editors: British Business Award Winners in full
ACHIEVEMENT IN SALES OF UK MADE BRANDS

Largest overall importer: Ghaddar Machinery
Sale of the biggest ever built Princess boat: Princess Yachts Middle East
Sale of 250 million tablets of Panadol highest in the world per capita: SADCO

LIFETIME ACHEIVMENT AWARD

Serge Hochar from Chateau Musar. The first Lebanese wine to be sold in the UK, a tribute to a great personality and entrepreneur.

FRIEND OF THE EMBASSY

In recognition of their contribution to several embassy events: Mutawa Khatib, TED Baker franchisee

CONTRIBUTION TO UK LEBANON RELATIONS

MANA automotive, in recognition of their contribution to backing Lebanon's stability
Diageo – for the Johnny Walker "keep walking" campaign featuring inspiring stories of the progress and achievement of global icons.

INNOVATION AWARD

Alexander Asseily, British Lebanese Founder of one of the highest-valued private consumer electronics companies in the world, Jawbone.

INVESTING IN THE FUTURE

Spreading the English language: ATEL
Long term trade partner linking Lebanon to the UK: HSBC
For developing the ICT industry in Lebanon: Beirut Creative Cluster
Media enquiries: Communications Section, British Embassy Beirut: 01 960852/3.
Published 23 March 2015