World news story
British Law Minister Shailesh Vara's India visit to carry forward UK-India legal links
The Minister's visit is the latest in a series of senior British Government visitors to India to further develop the bilateral relationship with the new Indian Government.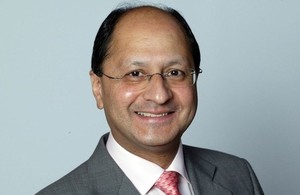 The United Kingdom's Parliamentary Under-Secretary of State and Minister for the Courts and Legal Aid at the Ministry of Justice, Shailesh Vara MP, will visit Delhi and Ahmedabad from 1-3 September 2014.
The Minister's visit is the latest in a series of senior British Government visitors to India to further develop the bilateral relationship with the new Indian Government.
The Minister said,
As a British Government Minister of Indian Origin this is a visit I am particularly looking forward to. The relationship between Britain and India is long and solid, and I am keen to strengthen it even further for the benefit of both nations. I have a number of meetings and events, both in New Delhi and Ahmedabad, during which I will be discussing matters of mutual interest between our two countries.
Mr Vara will hold meetings with ministers, senior judicial officials and visit law colleges in Delhi and Ahmedabad, building on the close links that already exist between the Indian and British legal professions. He will also promote the Global Law Summit that will be held in London in February 2015.
In Delhi, Mr Vara will meet human rights lawyers and British businesses; Energy Minister Piyush Goyal; Law, Justice and Communications Minister Ravi Shankar Prasad; Home Affairs Minister Kiren Rijiju; Justice R M Lodha, Chief Justice of India and Chairman of the Bar Council of Delhi K K Manan. On 2 September, he will visit Delhi's National Law University.
In Ahmedabad, he will call on the Director of the Gujarat National Law University deliver a speech and interact with students there. He will be felicitated by the Vishwa Gujarati Samaj who will present him with a Gujarat Gaurav Award. Mr Vara will also visit the historic Sabarmati Ashram.
The Minister already has close links to India. A Gujarati speaker, he was awarded the Pravasi Bharatiya Samman by the Indian Government earlier this year. He is also the first person of Gujarati origin to serve as a British Government Minister.
Further Information
Shailesh Vara is the Member of Parliament for North West Cambridgeshire and Parliamentary Under-Secretary of State for the Ministry of Justice with responsibility for the Courts and Legal Aid. He was the first Indian-origin politician to become a British Government Minister under the Conservative Party. He was first elected to Parliament in 2005 and re-elected in 2010. Whilst in Opposition, he served on the Select Committee for Environment, Food and Rural Affairs and in 2006 on the Standing Committee of the Companies Bill, scrutinising the largest Bill ever to go through Parliament. In 2006, Mr Vara was appointed Shadow Deputy Leader of the House of Commons, a post he held until the 2010 General Election. Following the General Election, Mr Vara served as a Government Whip from 2010-2012 and was appointed as Justice Minister in 2013. As well as Courts and Legal Aid, Mr Vara's ministerial portfolio also includes responsibility for the UK's legal services sector, judicial policy and diversity, the Ministry of Justice's work in the European Union and wider international issues. Following his election to Parliament, Mr Vara has held a range of other responsibilities and these included being Joint-Vice Chairman of the All Party Parliamentary Group on Trafficking of Women and Children, Treasurer of the BBC All Party Parliamentary Group, Vice-Chairman of the Executive Committee of Conservative Lawyers and the Chairman of the Conservative Parliamentary Friends of India Group.

Mr Vara will brief Delhi-based media on his visit at the British High Commissioner's Residence, 2 Rajaji Marg, (Opp New Sena Bhawan), New Delhi at 1835 hrs on 1 September 2014. You are invited to send your correspondent/camera crew for coverage. To register, please contact Upendra Singh, mobile: 9871423233; Asad Mirza, mobile: 9810113775) or Kitty Tawakley, mobile: 9811297046) no later than 1200 on Monday, 1 September.

For more information click here.
Stuart Adam, Director,
Press and Communications
British High Commission,
Chanakyapuri, New Delhi 110021
Tel: 44192100; Fax: 24192411

Mail to: Asad.Mirza@fco.gov.uk
Follow us on Twitter, Facebook, Flickr, YouTube, LinkedIn, Storify, Eventbrite, Blogs, Foursqare
Published 29 August 2014