World news story
British Higher Education Showcase
Interested in studying in the UK but not sure which university or programme would suit you best? Come to our event and we will help you!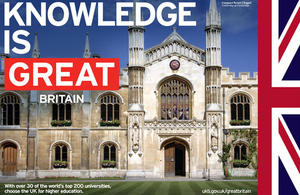 The British Embassy in Prague, in co-operation with the British Chamber of Commerce, invites you to the first British Education Showcase in the Czech Republic.
During the event you will get the chance to talk to the representatives of British Higher Education providers, learn what the conditions of studying are in the UK and find out which institution in the UK would best meet your needs and desires.
You will learn about:
bachelor and post-graduate programmes offered by various universities in the UK
conditions of studying in the UK
entrance exams and other requirements for studying in the UK
fees and scholarships
possibilities for working and studying in the UK
The entrance is free!
The Showcase will be part of the biggest education and languages fair in the Czech Republic, the LINGUA SHOW. The Lingua Show is an annual international event, attended by more than 13000 people from the Czech Republic and neighbouring countries. For more information about the Lingua Show, please visit their website.
Venue: Exhibition Ground Vystaviste, Prague, Czech Republic
Dates: 27 - 28 March 2014
If you are a British university or college interested in attending the showcase please contact us on:
Stephen Ridgway
E: stephen.ridgway@britcham.cz
T: +44 7581625090
Published 18 February 2014