World news story
British High Commissioner visits Lucknow
The High Commissioner welcomed the first applicants of the new UK visa service in Lucknow, which was inaugurated today.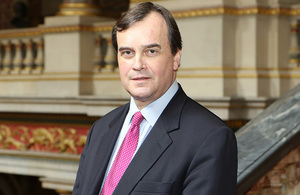 The British High Commissioner to India, Sir Dominic Asquith KCMG, made his first visit to the historic city of Lucknow today, where he met the Chief Minister Akhilesh Yadav to discuss how the UK and Uttar Pradesh could work more closely together.
The new visa service, available on the third Tuesday of each month, allows customers to apply for their UK visas in Lucknow for the first time.
The service is based at the Golden Tulip Hotel, where customers can submit their UK visa applications and give their biometric information.
Sir Dominic Asquith said:
I am delighted to visit India's most populous state to find out how Uttar Pradesh and the UK can work more closely together.

The UK already has more Visa Application Centres in India than we have in any other country, and I am pleased that we are expanding our footprint into Uttar Pradesh. There has been a growing demand for UK visas from the state, and we hope that it will encourage more people from Uttar Pradesh to think of the UK for tourism, study, trade and investment.
UKVI's Regional Director for South and Southeast Asia, Nick Crouch said:
The new visa centre was announced during the UK Immigration Minister's visit to India. During the visit he also announced a number of other improvements including a new application form for visitors and allowing first-time visitors to use the Priority Visa service. These improvements have been well received and are all part of UKVI's strategy to make it quicker and easier for Indian customers to apply for UK visas.

UKVI and our commercial partner VFS Global will continue to monitor demand for the Lucknow visa service and look to adjust it accordingly.
Customers will be able to apply for their visas in all routes and in the coming months UK Visa and Immigration (UKVI) will look to roll out more premium services to customers in Lucknow including the 3 - 5 day Priority Visa service.
Further Information:
The new visa service will cost Rs 8499 over and above the visa fee. The fee includes courier service to return documents.
The visa service will be available from 09.30-17.00 and will be located at:
Golden Tulip Lucknow
6 Station Road,
Lucknow – 226001, India

Applicants will continue to apply for their visa and book their visa appointment here.
For media queries, please contact:
Stuart Adam, Head,
Press and Communications
British High Commission, Chanakyapuri
New Delhi 110021
Tel: 44192100; Fax: 24192411

Mail to: Upendra Singh
Follow us on Twitter, Facebook, Flickr, Storify, Eventbrite, Blogs, Foursquare, Youtube, Instagram, Vine, Snapchat @UKinIndia, Periscope @UKinIndia
Published 17 May 2016