World news story
British High Commissioner to The Gambia visits BEECause Gambia
The British High Commissioner to The Gambia David Morley visited the Kumoo Kunda headquarters near Lamin of 'BEECause Gambia' to learn more about the operations of the British High Commission's newest development partner.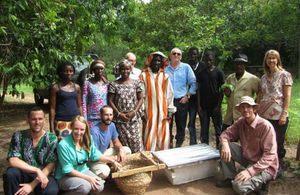 The British High Commission earlier this year awarded funds to BEECause Gambia to develop apiaries in Abuko National Park, Tanji Bird Reserve and Tanba Wetlands National Park. The project will train more than 60 park rangers in beekeeping skills including hive management and pest/disease control. Profits made from selling bee related products will be recycled back into Gambia's National Parks.
BEECause started working in The Gambia in 2009 and further information on their work can seen at - http://africabeecause.org.
Commenting after the visit, British High Commissioner David Morley said:
I was delighted to visit BEECause Gambia to learn more about their valuable work in educating people about the economic benefits bees can bring to Gambian communities. I was incredibly impressed with the dedication of all the staff and look forward to a close partnership with the British High Commission for the benefit of communities across The Gambia.
Published 21 August 2013