World news story
British High Commissioner, hands over variety of equipment
British charity, UK Police Aid Conveys, gifts Tanzania vital fire fighting and police equipment.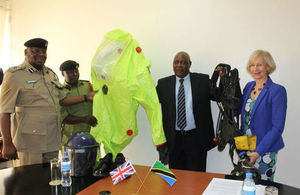 British High Commissioner, Dianna Melrose, handed over a variety of fire fighting and police equipment on 11th December on behalf of the UK charity 'UK Police Aid Conveys', to Minister Mathias Chikawe, Ministry of Home Affairs and Minister Dr Seif Rashid, Ministry of Health and Social Welfare.
Speaking at the event, Ms Melrose said:
"The donation of these materials demonstrates the collaborative nature of the United Kingdom's partnership with Tanzania. Today we are handing over a large quantity of different items – from fire fighting and medical items, to police uniforms and protective clothing, and furniture. These goods have been provided by numerous different donors in the UK – by the National Crime Agency, a number of UK Police Forces, the Fire Service, the Ambulance Service, and by hospitals across the United Kingdom. They will benefit Tanzania's Fire and Police Services and medical centres across the country".
The goods were organised by UK charity National Police Aid Convoys. The UK Police Aid Convoys is a volunteer charity based in the UK that collects, sorts and then dispatches this sort of development aid to communities all over the world.
Wanda Adams, the secretary of the UK Police Aid Convoys charity said:
"I am delighted to see everything delivered safely in Tanzania and look forward to news of its reception and utilisation. We would like to express our thanks to the National Crime Agency in the UK and to Songas Ltd in Dar es Salaam for supporting the costs of importing the containers to Tanzania Thanks also to the National Police Aid Convoys in the UK for selecting Tanzania and Zanzibar to be the benefactors of this equipment."
Speaking on behalf of Songas Ltd Nicodemus Chipakapaka said:
"Songas is proud to play a part in supporting this strong collaborative partnership between the United Kingdom and United Republic of Tanzania. These contributions will be of immediate benefit to the Police, Fire and Medical services and hence to people of Tanzania".
A further 42 foot container of emergency services equipment is in the process of being prepared for handover to authorities in Zanzibar shortly.
The donation represents a small part of the wider programme of partnership working that is achieved on a daily basis between the UK and Tanzanian institutions, but is demonstrative of the collaborative approach that we believe provides the most benefit to both nations'.
Published 11 December 2014