World news story
British High Commissioner congratulates inspiring Bangladeshi young leaders
The High Commissioner met Osama Bin Noor, Queen's Award winner 2016, Zaki Hasan, UK ILP 2016 and Ejaj Ahmed, UK ILP 2015 at her Residence.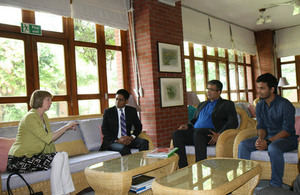 On 8 June British High Commissioner Alison Blake met Osama Bin Noor, co-founder of 'Youth Opportunities', one of the largest web portals for youth opportunities and Queen's Young Leaders Award winner 2016, Zaki Hasan, CEO of Underprivileged Children's Educational Programme UCEP, UK International Leaders Programme 2016, and Ejaj Ahmed, President of Bangladesh Youth Leadership Centre -BYLC, UK International Leaders Programme 2015.
Congratulating these inspiring young leaders on their remarkable achievements in developing opportunities for Bangladesh's youth, British High Commissioner Alison Blake said:
"The FCO International Leaders Programme and Queen's Young Leader Award are competitive processes open to some of the brightest young people across the globe. Your awards are a testimony to your hard work and contributions to building a brighter future and creating opportunities for young people in Bangladesh. Through the programmes in the UK will enable you to strengthen the ties between the UK and Bangladesh and to meet and share experiences with other young leaders from across the world."
The High Commissioner thanked Ejaj Ahmed for sharing his experience from attending the International Leadership programme earlier this year, and wished Zaki Hasan and Osama Bin Noor good luck for their visits to the UK next week where they will meet senior politicians, government officials and lawmakers. Osama Bin Noor will receive his award from Her Majesty the Queen.
Notes to editors
International Leaders programme
Launched in March 2013, the International Leaders Programme (ILP) is a flagship programme designed to connect, and develop lasting relationships, with future leaders from Emerging Powers across commonwealth. The ILP showcases diverse aspects of the UK and includes senior engagement with leaders in government, Parliament, media, business, academia and civil society
Queen's Young Leaders programme
The Queen's Young Leaders Programme discovers and supports exceptional young people from across the commonwealth. The Queen's Young Leader award recognises and celebrates exceptional people aged 18-29 who are taking the lead in their communities and using their skills to transform lives. Winners of this prestigious award receives a unique opportunity of training, mentoring and networking, including a one-week residential programme in the UK during which they will collect their award from her Majesty the Queen.
You can find more about the Queen's Yong Leadership programme here
Further information
British High Commission Dhaka
United Nations Road
Baridhara
P O Box 6079
Dhaka - 1212
Dhaka
Bangladesh

Email: press.dhaka@fco.gov.uk
Follow the British High commissioner to Bangladesh on Twitter: @AlisonBlakeFCO
Follow the British High commission Bangladesh on Twitter and Facebook: @UKinBangladesh and UK in Bangladesh
Published 9 June 2016