World news story
British High Commission Yaounde: CALL FOR PROJECT BIDS 2014/2015
Interested organisations should apply for funding for their projects now!!!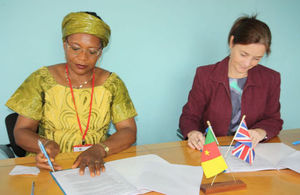 CALL FOR PROJECT BIDS 2014/2015
The British High Commission invites organisations, associations and institutions to bid for funding for projects for the 2014/2015 financial.
The deadline for submission of project bids is the 20th of March 2014. Projects should start in April 2014 and finish by February 2015. The ceiling for individual projects is £20,000. Jointly funded projects are strongly encouraged.
Target Thematic Areas
The British High Commission funds small scale high impact projects through its Challenge Fund. Projects in the following thematic areas are supported:
• Promotion and protection of freedom of expression
• Women's rights
• Strengthening democratic processes
• Preventing sexual violence
• Promoting UK-Cameroon trade and investment
You may send us bids that relate to these objectives at anytime from now till the deadline. Forms and guidelines are available on our website https://www.gov.uk/government/publications/project-funding-at-the-british-high-commission-yaounde
Due to the high number of bids we receive, only successful bidders will be notified.
All bids should be sent via email to bhc.yaounde@fco.gov.uk
Key Document:
Published 13 March 2014