British High Commission supports Gambian oyster farmers
British High Commission provides funds for TRY oysters women association to develop oyster production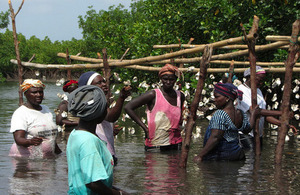 The British High Commission Banjul is this year lending its support to the award winning Gambian 'TRY Oyster Women Association' as one of its project partners.
The British High Commission Banjul is providing funds to TRY Oysters Women Association to develop sustainable oyster production in 5 communities throughout the Tanbi National Wetlands Park. The funds will teach 5 different communities how to grow oysters on sustainable bamboo structures located within the river Gambia, eliminating the need for the female oyster growers to harvest and damage the fragile mangrove ecosystem.
It is estimated over 300 female oysters growers will benefit from the project with communities at Abuko, Kartong, Ebo town and Faji Kunda all involved. The sustainable eco-friendly method of harvesting oysters can increase oyster production by more than 10 times resulting in significantly improved livelihoods for the female oyster growers.
Commenting, Deputy High Commissioner George Sherriff said – 'I am delighted the British High Commission Banjul has chosen to partner and help fund a project run by TRY Oysters Women Association. This project benefits many female oyster growers across the country in addition to helping preserve the fragile and beautiful mangrove ecosystems which are of such environmental and economic importance to The Gambia'
Pictures attached of female communities in the Tanbi National Wetlands Park building the sustainable bamboo structures in the river Gambia.
Published 30 October 2013