World news story
British High Commission in Tanzania celebrating St. Andrew's Day
There are strong links between Scotland and Tanzania and as we celebrate Scotland's national day today, anyone passing the British High Commissioner's Residence will notice a subtle change.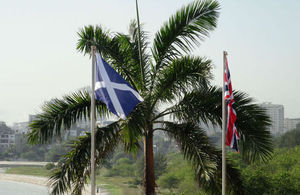 Flying alongside the red, white and blue Union Flag is a blue flag with a bold white cross running from its corners. It is the Saltire. The cross of St Andrew, the Patron Saint of Scotland, whose feast night on 30 November is marked by Scots across the world.
Today, we are celebrating the best of Scotland, and all that this land and its people have contributed to the world. Its history and heritage: a country rich in culture, creativity and commerce; home to some of the most breath-taking scenery imaginable.
The 12 months since the last St Andrew's Day have been remarkable. It has been a year when Scotland has welcomed the world, hosted two great international sporting events, and when the Scottish people determined their own future.
2014 has been, unofficially at least, the year of Scotland. And what a year it has been!
The Commonwealth Games brought 6,500 athletes to Glasgow. They came from 71 nations and territories, representing a third of the world's population, to compete in 17 sports over 11 glorious days. Over a million people filled Glasgow's sporting arenas, and over a billion more were willing on the athletes from their homes. From January 18-20, in the run up to the Commonwealth Games, the Queen's Baton Relay came to Tanzania. It was carried by Tanzania's sporting great Filbert Bayi, President Kikwete and in Zanzibar by President Shein.
And just when we thought that the agony and ecstasy of sport had reached its climax, the eyes of more than half a billion viewers in 183 countries turned to Gleneagles as Europe's and America's best golfers battled it out for the glory of winning the Ryder Cup.
2014 was also the year that the United Kingdom demonstrated that values aren't just something we talk about abroad - we live by them at home.
In a defining moment in British history, and by a decisive majority, the people of Scots voted to remain part of the United Kingdom, one of the most durable and successful political unions ever seen. Who would have thought that politics could be more exciting than sport?
In a world where separatism all too often leads to conflict, the Scottish referendum demonstrated Britain's confidence in her own democratic institutions and processes.
A free and open debate electrified the nation; a peaceful, lawful and democratic vote drew admiration from around the world – including in Tanzania; and, with a record turnout, the settled will of the Scottish people was determined.
There are close and longstanding ties between the people of Scotland and the people of Tanzania. In March this year President Kikwete visited Aberdeen, the centre of the North Sea offshore oil & gas industry. Young Tanzanians are studying for masters in Oil & Gas related subjects at the University of Aberdeen and Robert Gordon University. This is through a scholarship programme, sponsored by BG group and organised by the British Council, designed to develop Tanzanian skills in managing gas development.
Earlier this year a Scottish Development International (SDI) trade mission visited Tanzania. In March 2015, UK Trade & Investment Tanzania is organising another SDI delegation visit to enable Scotland based companies, with expertise in the Oil and Gas sector to explore business opportunities and partnerships in Tanzania. ASCO, an Aberdeen based company, won a £63 million contract to run the offshore gas base at Mtwara port. Another Scottish company, MDT International, has won a £375,000 contract in the Oil and Gas sector in Tanzania.
British Prime Minister mentions flags flying in Dar es Salaam during the St. Andrews day.
Published 28 November 2014