World news story
British High Commission in Dar es Salaam celebrates Queen's Young Leaders award winners
British High Commissioner Dianna Melrose hosted a 'Celebrating Youth Leadership and Entrepreneurship' event at her Residence on 4th February.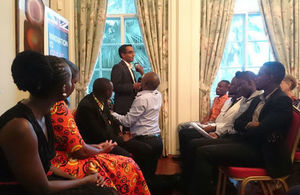 The event highlighted the successes of a special group of Queen's Young Leaders and Pitch@Palace award winners, and led into a discussion about the issues facing young people today.
Speaking at the event the High Commissioner said:
'I am absolutely delighted to be recognising our young leaders today, particularly the winners of the Queen's Young Leader and Pitch@Palace awards. 60% of the commonwealth is under the age of 30. This is 1.2 billion people. In Tanzania, nearly 2/3 of the population is under 25. This brings huge opportunities. Young people have the potential to transform Tanzania, to become engines of growth and agents of positive change. But there are also big challenges: 200 million unemployed in the Commonwealth – many here in Tanzania. Young people struggle to access services, to get credit, and to build a life for themselves and their families. We wanted to discuss these and other issues and to hear from the young people themselves about their views on the best way forward'.
The evening was also a celebration to recognise the achievements of some incredible young Tanzanians who have overcome significant barriers to achieve their potential. And an opportunity for them to share their inspirational stories. The Head of DFID Tanzania, Vel Gnanendran, focussed at the event on the potential of young people to contribute to Tanzania's development. He said: 'Tanzania is at a turning point in its development, with the potential of reaping the reward of a large working age population to generate the productivity needed to propel Tanzania into middle income status. In this context we look to young leaders and entrepreneurs not only to demonstrate hope to their peers but also to actively create jobs and opportunities for others.' 'Not only here, but across the world, young people are being held back by unfair business practices, policies that favour the older population, and a lack of access credit, lack of access to and control over resources. The challenges are great, but as represented here tonight, young Tanzanians can triumph against the odds.'
DFID across the globe, including in Tanzania, is putting young people at the centre of its programming, listening to their views, and incorporating them into UK development plans.
Document information
Published: 5 February 2016