World news story
British High Commission Donates to Ghana Police Service
British High Commission Donates to Ghana Police Service and other agencies in Ghana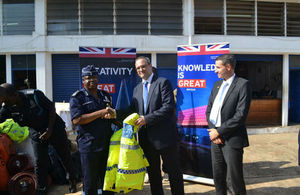 The British High Commission has donated items worth thousands of Ghana cedis to support the Ghana Police Service (GPS), Ghana National Fire Service (GNFS) and the Ambulance Service. The items included a number of handcuffs, crowd preventive gears, a number of medical and safety equipment, water hose, helmets, bicycles and some quantity of clothing to support the vulnerable in society.
Presenting the items, Stuart Taylor, the Second Secretary Political of the British High Commission thanked the Inspector General of Police (IGP) for clearing the items from the ports on behalf of the services. He said the GPS and their counterparts in the United Kingdom would continue to work together in combating crime. He noted that even though the items sent were meant for the three services, "the Ghana Police Service will take the majority of them to tackle crime." Mr Taylor said some of the items would also be sent to schools and other medical facilities for use.
Explaining further, Jon Goulding, Liaison Officer, National Crime Agency at the British High Commission said the container with the items had been organised by a UK charity, National Police Aid Convoys which is a volunteer charity based in Mansfield, UK that collects sorts and then dispatches free containers of this sort of development aid to communities all over the world. The Director General in charge of Services, COP James Oppong Boanuh, who received the items on behalf of the GPS, thanked the officials of the British High Commission for the items donated. He promised to send the other services their share of the items.
Published 23 May 2014