World news story
British High Commission bids farewell to Malawian Scholars to the UK
The High Commissioner hosted a farewell reception for 12 Chevening and 17 Commonwealth Scholars to UK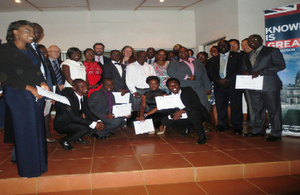 The British High Commissioner to Malawi, Michael Nevin, on Thursday, 10 September 2015 saw off successful Chevening and Commonwealth Scholarship recipients at a reception held at the Residence in Lilongwe.
Every year, a group of outstanding Malawian scholars are selected to study different fields at UK universities under the prestigious Chevening and Commonwealth Scholarships funded by the British Government.
This year, 12 Malawians were awarded the Chevening Scholarship, a six-fold increase on last year, while 17 students are heading to UK under the Commonwealth Scholarship.
The High Commissioner said that the UK government is pleased to increase the intake of Chevening students as many Malawian Chevening Alumni end up assuming key leadership and influential positions on their return.
"This is a lifetime opportunity to study at the UK's world class institutions of learning. The scholars will benefit academically and be able to broaden their outlook through living in the UK. The UK government's main scholarships for overseas students are globally highly competitive. Our aim is to support potential leaders of the future, and for Malawi, those who can help transform the country to achieve its potential domestically and internationally. We look to them within 10 years to be in positions of influence and making an impact, which is good for Malawi and the UK." said Nevin.
Representing government at the function, Deputy Minister of Education, Vincent Ghambi hailed the UK government for helping many Malawians with scholarships since independence. The Minister said education is central to government's development agenda and was grateful for the partnership with the UK government and for these academic opportunities for Malawians.
One of the students, Chimwemwe Manyozo, a Chevening Scholar heading to the University of Sussex to study for a Masters Degree in Development Studies said that it was an amazing experience to be awarded the Chevening Scholarship which will enable him fulfil his dreams.
"This scholarship provides an extraordinary opportunity to interact with students and scholars from diverse professional and cultural backgrounds which is important for integration of different ideas and perspectives pertaining to diverse global development issues. The knowledge and experience acquired will help me improve service delivery in public service which leads to national development," said Manyozo who urged those looking for scholarship opportunities to apply in future.
If you are interested in applying for Chevening, applications open in August and close in November each year and must be submitted online. Find out more details on: Chevening
Further Information:
Published 12 September 2015