World news story
British High Commission Banjul Partners with Beecause Gambia
BHC Banjul with Beecause Gambia aimed at developing apiculture and bee conservation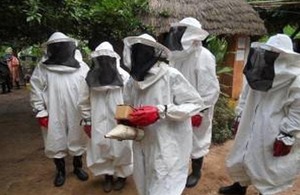 The British High Commission Banjul has recently partnered with Gambian not-for-profit-company, 'BEECause Gambia' in a project aimed at developing sustainable apiculture and bee conservation in Gambia's national parks.
The British High Commission has awarded BEECause Gambia over 238,000 dalasi to develop apiaries in Abuko National Park, Tanji Bird Reserve and Tanba Wetlands National Park. The project will train more than 60 park rangers in beekeeping skills including hive management and pest/disease control.
The income from the project will improve bee habitats in the designated national parks and provide an awareness of Gambian pollination efforts to visitors.
Commenting, Acting High Commissioner George Sherriff - "I am delighted that the British High Commission is working with BEECause Gambia to help Gambia's National Parks develop beekeeping skills. The High Commission was particularly impressed with the many aims of this project which should help the biodiversity of Gambia's ecosystems in addition to creating sustainable income for the parks and rangers."
Further information on the work of BEECause can be seen at – copy
Published 19 July 2013