World news story
British High Commission and US Embassy on Baba Leigh's disappearance
British High Commission Banjul and US Embassy Banjul released a statement marking five months of Baba Leigh's disappearance.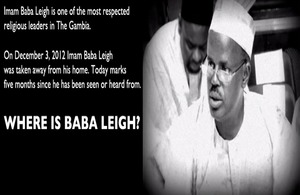 Today marks five months since Imam Baba Leigh disappeared.
The United Kingdom and the United States continue to be greatly concerned about the welfare and safety of Imam Baba Leigh. As a leading Islamic scholar, Imam Baba Leigh is a frequent interlocutor of the US Embassy and US Department of State and is known as a trusted religious leader throughout The Gambia. The Gambia's National Intelligence Agency allegedly detained him on Monday December 3, 2013 for reasons unknown. Imam Baba Leigh has not been seen or heard from in five months and the Government of The Gambia continues to deny providing information about his whereabouts.
We urge the Government of The Gambia to act in accordance with its laws as well as its international obligations. We call on all concerned to provide lawyers, family members, and international observers access to Imam Baba Leigh and to treat him fully in accordance with the laws of The Gambia and the accepted norms of international human rights.
Published 3 May 2013