World news story
British High Commission Accra supports Ghana Armed Forces
Training week for Ghana Armed Forces.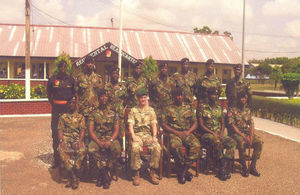 The UK Defence Adviser, Lieutenant Colonel Simon Westlake Royal Marines has this week been hosted by a number of units of the Ghana Armed Forces in a programme designed to increase his awareness of the structure, history and current commitments of Ghana's Armed Forces – and to discuss current and potential future areas of cooperation between the UK and Ghana. After last week calling on the Chief of Defence Staff, Air Marshal Michael Samson-Oje, Lt Col Westlake was this week hosted by the Reconnaissance Regiment, 64th Infantry Regiment, Eastern Naval Command, the Air Force Base Accra, the Defence Signal Regiment and 48 Engineer Regiment; his series of visits and engagements will continue throughout the next two weeks completing a superb programme designed by the Ghana Armed Forces. Thoroughly impressive Honour Guards, excellent showcases of equipment, engaging discussions with Commanders and their young officers, and a range of informative briefings all made for an excellent week of activity that further exemplified the strong defence links that exist between the UK and Ghana.
The week finished with the ceremony marking the departure of Air Vice Marshal I S Kadri from his post as Commandant at the Ghana Armed Forces Command and Staff College (GAFCSC), where AVM Kadri graciously mentioned the continuing support provided by the UK to GAFCSC in his departure speech. Lt Col Westlake congratulated Rear Admiral S Amoamah on his appointment as the new Commandant and was honoured to be invited to partner with Ghanaian colleagues in the traditional 'Pulling Out' ceremony that marked AVM Kadri's final departure from both GAFCSC and the Ghana Armed Forces. The voyage of AVM Kadri's vehicle through the campus, pulled on two ropes by friends and colleagues was a truly visible and physical demonstration of the UK / Ghana Partnership in action!
Published 18 July 2016