World news story
British funding aids Syrians and Lebanese in Tyre
British Ambassador visits Syrian refugees and Lebanese hosts in Tyre, South Lebanon.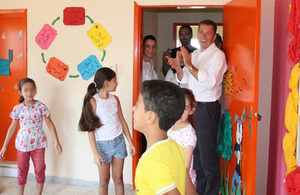 On the occasion of the International Humanitarian Day, British Ambassador to Lebanon, Tom Fletcher, met Syrian refugees in Tyre on 20 August 2013. He visited a project by the Norwegian Refugee Council, who are funded by the UK for activities throughout Lebanon. Ambassador Fletcher saw the type of project that the UK's £4 million contribution will fund, one that is providing shelter that benefits both refugees and host communities. This is part of the UK's support of over 100m USD in Lebanon to the refugee crisis.
Ambassador Fletcher commented:
"We understand the huge strain being faced by Syrian and Palestinian refugees, and the communities hosting them with such generosity and humanity throughout Lebanon. I heard first hand how grateful vulnerable refugees are for the support they have received from Lebanese hosts. I am pleased that UK funding is helping both refugees from Syria, and their Lebanese hosts."
Ambassador Fletcher received a briefing from the Norwegian Refugee Council about their information provision and outreach programmes, also co-funded by the UK.
During his visit to south Lebanon, Ambassador Fletcher also visited the Imam Sadr Foundation. He called on Ghaddar Machinery, a generator company which has created hundreds of jobs in South Lebanon, and Peterborough, UK. Ambassador Fletcher took some time out to visit the archaeological site at Tyre and enjoyed their famous shawarma.
Notes for editors:
DFID's overall contribution to the Norwegian Refugee Council in Lebanon is £4 million ($6.26 million).
Overall, the UK is contributing £66 million ($103 million) to Lebanon's humanitarian and development response to the Syria crisis, in addition to significant funding via the EU.
This is part of the UK-*Lebanon stability package for Lebanon, worth over $120 million, announced by Ambassador Fletcher on 16 July 2013.
Useful information:
Follow the British Embassy in Lebanon on Twitter: @UKinlebanon
Follow Ambassador Tom Fletcher on Twitter: @HMATomFletcher
Follow our Trade and Investment team on Twitter: @UKTILebanon
We are on Facebook: UK in Lebanon
Visit our website: www.gov.uk/government/world/Lebanon
Published 26 August 2013