World news story
British Embassy Vientiane Launches Official Facebook Page
This was published under the 2010 to 2015 Conservative and Liberal Democrat coalition government
The British Embassy Vientiane launches a new Facebook page to share updates about Embassy events and raise the profile of UK-Laos links.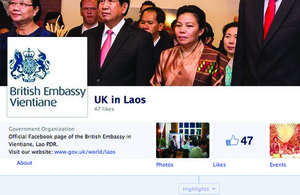 The British Embassy in Vientiane launched a new Facebook page this week to share information about the Embassy's events and work in the region, promote the UK in Laos and offer a platform for communication with British citizens in the country.
Facebook and internet use in general are growing rapidly in Laos. In the past three months, the country has recorded 11,000 new Facebook users per month and internet usage has more than doubled since 2005.
British Ambassador Mr. Philip Malone said:
The Facebook page will serve as a great tool to promoting English language, provide facts and stories about the UK's rich history and tourism opportunities and to share news and events of exciting happenings in Laos. More and more people in Laos are accessing the internet and the British Embassy Vientiane Facebook page will offer a great platform for engagement for both expats and Lao people alike.
The Facebook launch represents the third communications channel the embassy has launched in Laos since its re-opening earlier in the year. These include Ambassador Philip Malone's blog, which is currently running a series entitled, Laos through my Eyes, featuring guest blogs by British citizens with interesting stories to tell about their links with Laos; and an Embassy Twitter account. Visit the new Embassy Facebook page here.