World news story
British Embassy Vientiane and Beeline team up for Child Protection
In an effort to provide information on online child protection, the Embassy organised a series of activities.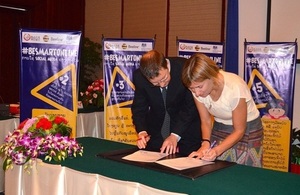 The British Embassy in Vientiane is proud to announce a partnership with local Telecommunications provider, Beeline Laos, to help inform children and young people about ways to protect themselves online.
The partnership and online safety campaign come just after the Embassy teamed up with the Lao National Commission of Mothers and Children to put on a training from the Child Exploitation and Online Protection Centre, based in London. The CEOP team led government officials, civil society staff, and international school teachers in a three-day International Safeguarding Children Training covering a wide variety of child protection topics, including formulating a lesson plan for directly working with young people to educate them about the risks and reporting channels for dangerous situations.
At the conclusion of the training, Beeline Director of Business, Ian Armstrong signed the Corporate Child Protection Charter, initiated by CEOP and the British Embassy Vientiane, to demonstrate Beeline's commitment to child protection and aim to implement policies and practices that are safe for children in Laos. Beeline is the first company in Laos to sign such a commitment.
This week the British Embassy and Beeline kicked off a nation-wide campaign to share tips with young people about how to stay safe on the internet. The Stay Safe campaign sees daily messages on the Embassy and Beeline's Facebook pages as well as billboards, newspaper advertisements, daily text messages to Beeline customers, and radio addresses promoting the campaign and sharing the messages on ways to protect yourself and friends online.
See the campaign live on the British Embassy Vientiane's Facebook page at www.facebook.com/ukinlaos.
Published 9 October 2013