World news story
British Embassy Tbilisi projects
We support Georgia's drive towards greater Euro-Atlantic integration.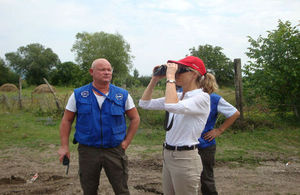 Supporting conflict resolution in the South Caucasus is one of the British Embassy Tbilisi's main strategic objectives. We work closely with a wide range of implementing partners to bring together those directly affected by the ongoing conflicts in Georgia, from supporting community-based approaches along the Abkhaz and South Ossetian Administrative Boundary Lines (ABLs) to working at the strategic level in international formats with the Georgian Government.
We support Georgia's drive towards greater Euro-Atlantic integration. The EU Monitoring Mission is a key, visible local indicator of the EU's continued support to Georgia. The UK contributes by sending talented staff to work at the mission, fulfilling a variety of roles from directly monitoring the conflict-affected areas to providing strategic analysis to Brussels. The Ambassador recently went on patrol with EUMM to view firsthand how continued 'borderisation' affects the livelihood of local residents.
In September a team of UK experts visited Georgia to evaluate how we are doing, visiting Shida Kartli to monitor Saferworld's Community Security project. There are many challenges, but some successes. In two villages nears to the South Ossetian ABL they saw families divided by recent events, but did witness the skills that both Georgian and Ossetian neighbours have learnt together as part of the project.
The UK's tri-departmental Conflict Pool is a key enabler for our work, and is how we fund a range of international and local partners working on conflict transformation. If you are working on peacebuilding projects/activities and have new, creative ideas please check our website http://www.gov.uk/world/georgia and Facebook page for information on available funding.
Published 27 September 2013