World news story
British Embassy supports Lao anti-money laundering legislation
Ambassador Philip Malone and Phetsathaphone Keovongvichith, Bank of Laos have signed an agreement on developing Laos' anti-money laundering legislation.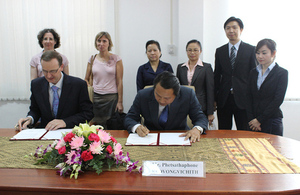 Prior to the signing ceremony, Ambassador Malone held talks with the Governor of the Bank of Laos Mr. Khamphao Phaysith on the development of the Lao financial system, stock exchange and areas for possible co-operation with the UK, one of the world's biggest and most important financial centres.
The Financial Action Task Force (FATF), an inter-governmental body which sets standards and promotes implementation of legal, regulatory and operational measures for combating money laundering, terrorist financing and other related threats to the integrity of the international financial system, has identified a number of deficiencies in Lao PDR's legal framework on these issues and has set a timeline for Lao PDR to address these.
The British Embassy has agreed to work with the Bank of Laos to fund the translation of a number of existing Lao financial regulations into English in order to satisfy FATF requirements. There may be further scope for working with Lao PDR on developing its new anti-money laundering law and providing training for police officers and bank officials on the identification and investigation of financial crimes.
This project forms part of the British government's wider aims to work with relevant partners to promote an improved business environment in Lao PDR and a rules-based international economic system.
Published 17 March 2014