World news story
British Embassy supports anti-corruption strategy in Laos
This was published under the 2010 to 2015 Conservative and Liberal Democrat coalition government
Ambassador Philip Malone gave a keynote address at a conference reviewing the implementation of the UN Convention against Corruption.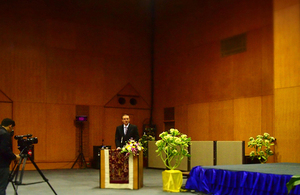 Ambassador Malone spoke as part of a co-operation project with the State Inspection Authority (SIA) and UN Office on Drugs and Crime (UNODC) sponsored by the British government.
The aim of the project is to provide support to Lao PDR in delivering its National Action Plan on Corruption, following the passing of the National Anti-Corruption Law in December 2012. The project is also raising awareness of the role of the State Inspection Authority in uncovering and acting on instances of corruption through a TV and internet publicity campaign, as well as raising awareness amongst business and civil society in Lao PDR of their role in and the mechanisms available for highlighting corrupt behaviour.
Over 200 officials from a range of government departments, mass organisations, business and international organisations attended the one-day event, presided over by H.E Mr Bounpone Sangsomsak, Vice President of the State Inspection Authority of Lao PDR.
Ambassador Philip Malone said:
The UK attaches huge importance to the fight against corruption and related issues such as transparency in business, the rule of law and human rights…Corruption and other economic crimes have a far-reaching impact which undermines our societies, sustainable economic development, fairness and equality and the rule of law. Indeed, there appears to be a direct correlation between the level of economic development in a country and the extent to which corruption is a problem: countries which have low levels of corruption tend to have strong economies.
The meeting highlighted the steps Lao PDR has taken to date to tackle corruption and agreed on next steps towards implementation of UNCAC's recommendations and the National Anti-Corruption Action Plan by 2020.
Lao PDR was ranked 140th out of 177 countries worldwide in Transparency International's 2013 global index of corruption perceptions, a jump of 20 places on the previous year.
This project forms part of a range of initiatives the British government is supporting in Lao PDR to foster greater transparency and accountability and an improved business environment.
Document information
Published: 27 February 2014