World news story
British Embassy sponsors Gambian school literary competition
British Embassy Banjul sponsors an inter school literary competition on child rights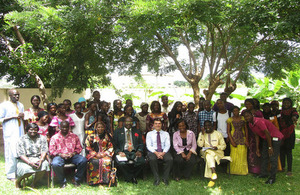 British Embassy Banjul recently sponsored an Inter School Literary Competition on child rights to coincide with the 24th Anniversary of the United Nations Convention on The Rights of the Child.
The event took place on 23rd November at the Marina International School and was organised by British Embassy project partner 'Young People in The Media'.
The competition provided an opportunity for Gambian children to discuss and express their thoughts and feelings about child rights through the use of drama, poems and presentations.
Speaking at the event, British Deputy Ambassador George Sherriff said –
"The British Embassy is very proud to be associated with Young People in the Media for this project. With over 60% of the population of the Gambia under the age of 24 it is extremely important that young people are included in the decision making process and their views and perspectives are heard. This is why the inter-school literacy competition is important as it highlights the voices of children in The Gambia and shines a light on their perspectives. By giving children the opportunity to contribute in this way we equip them with the tools and expertise to become tomorrow's leaders."
Published 10 December 2013