World news story
British Embassy seeks project proposals
British Embassy opens bids for bilateral programme fund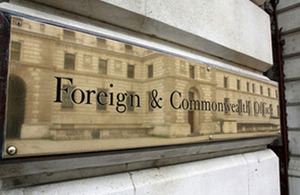 The British Embassy has announced the opening of bids for the Bilateral Programme Fund which provides assistance to civil society organisations and NGOs to run focussed projects or research in areas including, but not limited to:
• Agricultural reform/development • Climate change • Culture • Education and vocational skills development, • Forestry and Environment • Health and disease prevention/education, • Human rights • Marine and wildlife conservation • Poverty alleviation • SME and business development • Strengthening civil society • Water and sanitation
Any NGO or civil society organisation wishing to bid for funds must complete the British Embassy bidding form (available by emailing UKinTheGambia@fco.gov.uk ).
Project proposals must be sent electronically to UKinTheGambia@fco.gov.uk
Hard copies of proposals sent to the British Embassy will not be accepted.
Projects must start after 30 April 2014 and must be completed by 31 March 2015. Bids must not exceed £5,000.
The deadline for bids is Friday 28 March 2014.
For a copy of the project application form and guidance please e-mail UKinTheGambia@fco.gov.uk or call 4494508
Published 24 February 2014