World news story
British Embassy representatives visit Merida State
Embassy representatives travelled to Merida State to foster regional cooperation.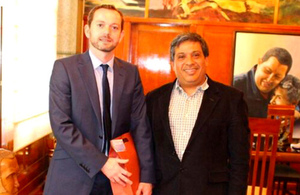 On 19 November, the Embassy's political secretary Mr. Matthew Webb visited Merida State.
Mr. Webb met with the Secretary General of Merida's Governorship, Mr. Luis Martinez Rico, to learn about the work they carry out throughout the State, and to explore potential areas of cooperation.
Similarly, Mr. Webb met with the mayors of Santos Marquina and Libertador municipalities, whose mayoralties benefitted from an Embassy project implemented by Venezuelan NGO Catedra de la Paz, to train civil servants on promoting a culture of peace.
Published 21 November 2014