World news story
British Embassy prepares to welcome high level UK guest
On 6-7 October, the British Embassy Vientiane will welcome Lord David Puttnam, trade envoy and acclaimed British film producer.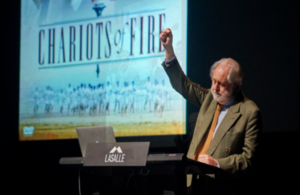 In his capacity as the UK's official trade envoy for Cambodia, Laos and Vietnam, Lord David Puttnam is touring the countries of South-East Asia to promote British trade interests and promote bilateral trade and investment and other links. In Laos his programme will cover education, film and the creative industries as well as trade and investment.
On Sunday, Lord Puttnam will open a UK Education-themed reception, which will also be the first ever gathering of UK alumni in Laos. Since reopening officially in April this year, the British Embassy has already identified over 60 Lao nationals who have previously studied in the UK. The event will also see the launch of the 2014-15 academic year Chevening Scholarship programme – the flagship scholarship programme of the British Foreign and Commonwealth Office.
On Monday 7 October the Embassy will kick off the day with a small breakfast reception at the Embassy showcasing the creativity of several British artists and creative industries living in Laos.
Lord Puttnam will then hold a film masterclass for young Lao film makers, sharing his own experiences in the international film business and sharing his views of future possibilities for the emerging Lao film industry. This event will be preceded by the screening of Midnight Express, an Oscar-winning movie produced by Lord Puttnam, in conjunction with the Embassy and the Vientianale International Film Festival. During a private working lunch with the recently established British Business Group, Lord Puttnam will meet key British companies represented in Laos as well as representatives of the European Chamber of Commerce.
He will meet senior Lao government representatives including H.E Mme Khemmani Pholsena, Vice Ministry of Industry and Commerce to discuss trade relations and investment links between the UK and Laos.
The visit will end with a business networking event to strengthen trade and investment links between the UK and Laos, jointly organised with the European Chamber of Commerce and Investment in Laos (ECCIL). Guests from the Lao business world will have the opportunity to meet Lord Puttnam and hear about UK trade and investment strengths and the benefits of partnering with the UK.
David Puttnam spent thirty years as an independent producer of award-winning films. His films have won ten Oscars, 25 British Academy of Film & Television Arts awards and the Palme D'Or at Cannes. He retired from film production in 1998 to focus on his work in public policy, concentrating on education, the environment, and the creative and communications industries. Lord Puttnam has been the recipient of more than 40 honorary degrees from Universities in the UK and overseas. Recently, he has started delivering online film industry seminar modules to students studying at universities all around the globe.
British Prime Minister David Cameron appointed Lord David Puttnam as Trade Envoy for Vietnam, Laos and Cambodia in November 2012 to promote trade for UK business in this fast developing economic area.
Published 4 October 2013